"Building partnerships to support innovation in higher education institutions through knowledge diplomacy.
Get our latest news and updates. No spam.
We advocate for the implementation of the research findings through influencing decision making within the higher education sector towards general development in African States.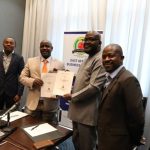 Africa Higher Education Research Institute (AHERI) and the East African Business Council (EABC) signed a Memorandum of Understanding (MOU) to promote Higher Education and Industrial growth in the EAC and the continent. Speaking during the signing ceremony, Institute Director Robert
Read More »
Our Impact
We organize conferences, develop and carry out research projects for clients, facilitate and promote publications on higher education research, organize public debates and produce position papers on current and critical affairs of the society, facilitate scholarship and support for masters and doctoral studies for Africans.